Congratulations if you have just secured your first 3Shape TRIOS intraoral scanner. You've now unlocked a whole new world of opportunities for your practice.
The way you will perform dentistry will change, and with any change, there is a learning curve. This can be overwhelming to some. It depends on where you're starting from.
Are you new to intraoral scanning? Then you are in for an exciting journey of discovery about the fundamentals of digital dental impressions.
Are you new to 3Shape technology? Then you will be delighted to discover new ways of working, using technology from a company that has pioneered the field from its infancy.
Regardless of which category you feel at home in, there is a lot to learn . But don't worry, you're in safe hands. And you're in luck: you jumped onboard the TRIOS train at just the right time.
Never before has it been easier to learn the ropes. And in this blog post, you will learn how to take advantage of the world-exclusive 3Shape TRIOS onboarding program that is available in certain countries. The personal TRIOS Onboarding program is currently only available if you are located in: United Kingdom, Germany, Spain, France, Italy, Ireland, Portugal, United States, Canada. We certainly want to expand the personal onboarding to additional regions but we do need some time to set things up. There is quite a lot of effort involved in getting it just right. What you can do instead, is sign up below for self-paced onboarding program by email. It gives you guidance with relevant training material and case studies. If you can't wait for the emails, we have collected a wealth of materials in one place: 3Shape Community. That's where TRIOS users go to learn at their own pace and interact with tens of thousands of other dental professionals across the world.
But before we walk you through what you need to know about the program:
What exactly is it you need to learn about intraoral scanning?
As we mentioned previously, it depends on where you're starting from . Besides the technical how-to about intraoral scanners, you may also need to shift your mindset.
And when we say "you", it is not just you, dear reader, but also the rest of your team. Everybody involved needs to understand, and be fully invested in, this new way of performing dentistry. New culture, new language, new protocols—and everybody needs to be onboard.
In essence, you need to learn: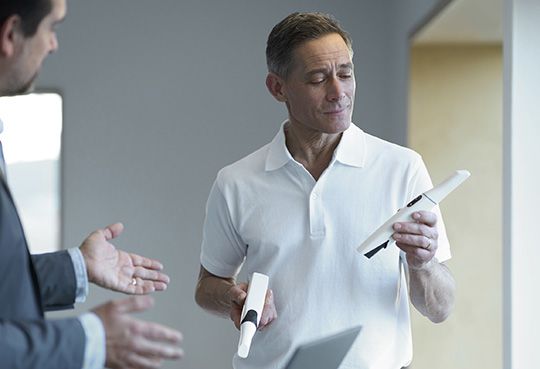 The technology and components of the scanner. Including how to properly set it up and maintain it.
The software you will use to operate the scanner. Including how to navigate and use the different features.
The proper strategy for capturing digital impressions within your treatment protocols. Including how to position the scanner tip and control the movement of the scanner to ensure complete coverage of the oral cavity.
How to interpret the digital impression data. Including identifying areas that may require additional scanning or refinement.
How this whole ecosystem of technology fits together into one high-performance machine. The 3Shape platform—Unite— brings with it an app store where you integrate dental laboratories, design centers, patient management systems and of course the 3Shape apps you choose, such as TRIOS Design Studio, Implant Studio, Splint Studio and Clear Aligner Studio.
It's a learning journey, but we're here to make it as easy, fun and fast as possible.
Welcome to the 3Shape TRIOS Onboarding Program
The moment you open the box with your brand new TRIOS, your goal is to: As quickly as possible, without sacrificing too much valuable time with your patients, make the technology a natural part of your team's everyday work.
Our TRIOS onboarding program IS the fastest and most comfortable way to achieve that goal. Over a period of approximately three months, depending on your needs and preferences, you will be able to fully integrate your 3Shape TRIOS into your practice, and reap the full benefits from it.