Your suggestions, combined with our programming ideas
Using their wish list and combining it with our own digital expertise has helped us to not only innovate digital dentistry workflows but develop new ways for practitioners to treat and engage their patients with.
The ultimate example of this teamwork just might be the brand-new TRIOS 5 intraoral scanner. We took dental professionals' suggestions, mixed them in with ground-breaking programming ideas, and put them into a scanner. It might sound simple, but it took us over five years to do it.
From improving the scanning engine to making a scanner smaller, the TRIOS 5 introduces a completely new and unique state-of-the-art digital impressions solution. A scanner that is so different and simple to use, it will make you want to go digital if you have not. And if you are already digital, you'll want to switch to a TRIOS 5.
If you are wondering how I know this, it is because I am a 3Shape Academy Trainer. I work with dental professionals every day helping them to learn how to scan and take advantage of digital pathways.
Like a golf coach, I have seen every type of swing, or in my case, scanning techniques. I believe that TRIOS 5 is what golfers would call the "magic move."
What you have told us about your wishes for the ultimate intraoral scanner
1. "I want errors in digital models to be fixed while scanning"
If you have used an intraoral scanner, then you have, at times, seen misalignment or distortion in your intraoral scans. This can be caused by both the person doing the scanning and the actual scanner.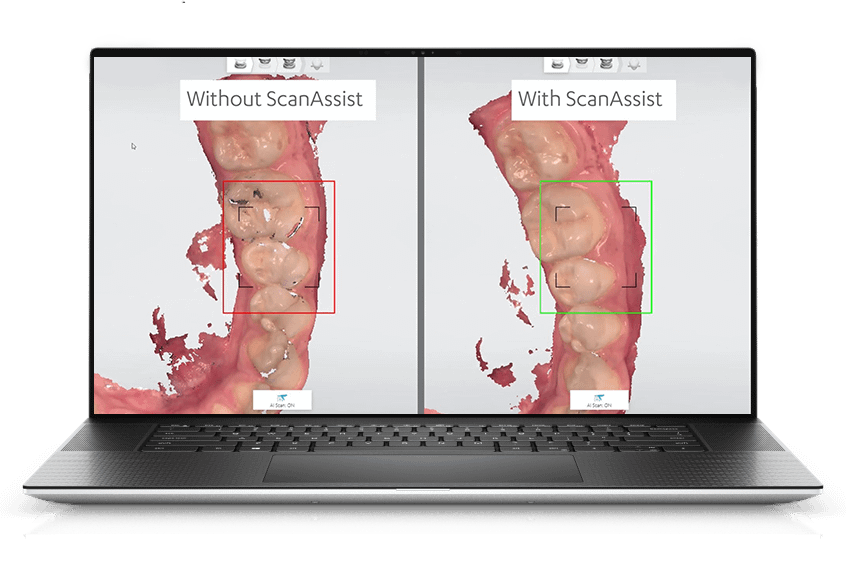 TRIOS 5 has an answer for both.
TRIOS 5 introduces ScanAssist intelligent alignment technology. The ScanAssist engine optimizes your scans while you scan to make your dental scanning smoother and faster. Working within the scanner, ScanAssist helps to stich the thousands of images together more efficiently. When you are building the digital model, it enables you to catch the data more easily, and go over the areas that you might have missed. It seamlessly stiches and fixes them. In other words, ScanAssist optimizes your scan while you scan.
To support the new engine, we have also added haptic sensory feedback to the scanner wand. Haptic feedback (like in your Apple watch) makes the scanner buzz in your hands when you, for example, get too far from the focal length when scanning. The buzz reminds you to get back on track.
Together, these features make it much easier for you to intraoral scan. The new engine captures data better and the haptic feedback improves your scanning technique. In fact, scanning with TRIOS 5 is so easy to do that you can create the scan path you prefer.