"My now seventy-two-year-old father has been a dentist longer than I've been alive. So, it's kind of cool because he has seen the transition. He watches my brother and I use the scanner and he wants to do it. He ended up scanning my mother and now he's around here always scanning something."
Dr. Jackson is a fourth-generation practitioner. She took the time out of her very busy schedule that begins every day at 4.30AM with a morning workout, to speak to us about her intraoral scanning every patient and what digital brings to her practice.
Engaging patients with an intraoral scanner is about building your practice
"For me, having an intraoral scanner is a great practice builder. It really makes an impact. When patients see it, they always say, that is so cool. I've been around dentistry my whole life. So, for me, it's always interesting to see people who have never been scanned.
Most of them have never seen this type of technology. When they see their teeth up on the big screen, it really impresses them. They always want to take a picture or video of the scan. When I first opened my practice, I had a vision. I knew what I wanted to do. My feeling was, guys we're already spending this much, so let's also get an intraoral scanner.
Daughter and father scanning side by side.
Scanning every patient is a must
I feel very strongly about scanning every patient. It's one of those must have things. For one, it's a fantastic digital record, and two, it gives you treatment planning options. You can digitally plan. You can send patients mock-ups and choose your production workflows and treatment partners.
When you contrast IO scanners with x-rays and pictures, they can only show patients so much. With a scan, we can turn it around, move the mouth, you can show patients that this is what we are talking about, you can show them their wear pattern, and much more. It is a very good tool for explaining treatment planning options.
A 3D model also provides a better understanding for patients than an x-ray. Basically, with a CBCT scan, patients do not get what they are looking at on the screen.
Patients are now saying 'I'm onboard, let's do this!'
Just being able to give patients, even if it's a rough mockup, an idea of where we are trying to go. It gives them a vision of what their treatment result can look like. Especially if we are doing veneer cases, where you can pull up a before and after for them.
I believe that visualizing is very important to patient. And why I realize you guys have a 3Shape TRIOS Move with its own screen, for me, I wanted an even bigger screen. So, I have 45-inch screen hooked into my 3Shape TRIOS network. The screen is really in your face.It just makes it easier for the patient. And I can see that the wow moment really kicks in for them when they see a treatment simulation. They say, I'm onboard let's do this. I liken it to a test drive, it's try before you buy."
Working with labs and partners – the digital dentistry workflow is just faster
"When I use, for example, 3Shape Smile Design, I'll do some of the cases myself or have the lab do them. If it's a normal case, I'll have the patient wait about ten minutes or so and initially design the case myself. The patient can go back to the waiting room or hang out in the operatory with the giant screen TV. As I mentioned, we have TVs everywhere.
After that, we can go through the treatment proposal together using the big screen.
With the labs that I work with, pretty much everything is done digitally now. The communications is just so much faster. I love the workflow. I'm from the younger generation. In terms of crown fit, I have experienced few issues, if any, in working with the labs and 3Shape TRIOS. The labs know all my preferences and they are preset in my orders. I would say that we just drop in the crowns, cement, or bond them, and the patient is gone in a day.
'As a general dentist, it's important to not be confined to just 1 or 2 labs'
I'm a very big fan of the my digital impression scanner, and the fact that it is an open system, is even better. Not only is TRIOS accurate when it comes to crown and bridge margins, implants, etc., but it integrates with several pairing partners, so you are not confined to just 1 or 2 labs to use. As a general dentist this is very important. In terms of cases, I also have my brothers in Kansas City, so sometimes I'll send cases up to them to review. We can bounce design ideas off each other and work digitally to design cases. It is very convenient that they are using 3Shape, as well.
'Nobody wants to keep thousands of models'
Importantly, because my practice is digital, we do not have to keep thousands of models. I don't think anybody wants that. I'd rather use a computer to keep track. I don't like the clutter, so for me, I want all of my patient records digital, if possible.
It is very helpful having the scans for records. With a patient, we have a model of what they looked like when they first came in and we can compare it to what we have done since then, using for example, patient monitoring software.
Another benefit about being digital is having an open ecosystem. It enables me to try different labs across the country and different clear aligner providers.
As a dentist, you always want to investigate what is out there. So, for my orthodontic clear aligner cases, it ended up being that ClearCorrect worked best. I like the integration and the workflow. It really works for me and my office. And importantly, the rep that I have for ClearCorrect is just fantastic. Finding good service, good people, makes a lot of difference, especially in dentistry."
'I could teach my assistants how to take a digital impression properly in a day'
"As a general dentist, I needed a multipurpose digital scanner that was accurate in capturing all types of dentistry, such as crown and bridge, implants, orthodontics, removable, etc. From day one, learning to use TRIOS was easy for me. My brothers taught me several years ago.
When I first worked for a corporate dentist, they also used 3Shape. At that time, it was funny because I was one of the only people in the office who knew how to use it.
But as far as a learning curve, it was relatively simple to use. I taught my assistants how to scan properly in a day. And as mentioned, my dad learned quickly.
The TRIOS scanning workflow is very intuitive. It walks you through step by step and shows you what you need to do: the tooth number, arch, shade, material, and so on. The software workflow makes sure you capture everything you need for a case.
My brother -adjunct professor at the dental school in Kansas City- has access to all the different scanner models. And through the years he worked with many different types of scanners, but we loved the TRIOS, its open ecosystem, and its design workflow.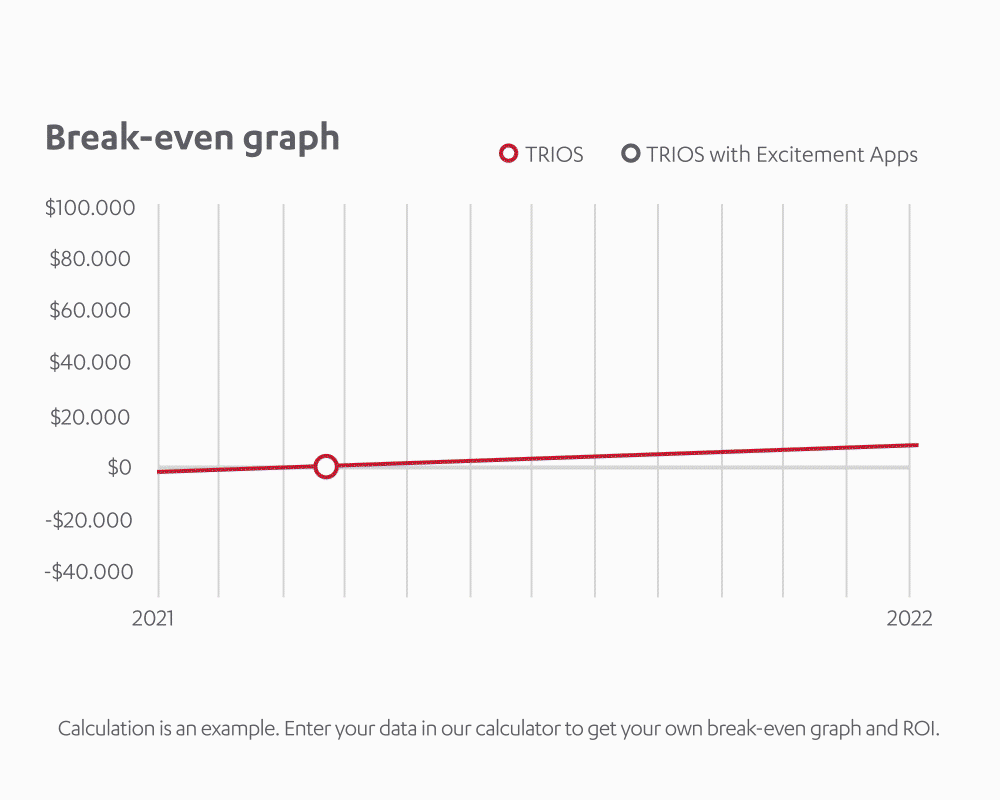 In terms of ROI, I felt that a scanner was just something my practice needed. I knew we would get the return on it. With it, we would be able to show patients more, they want to see technology, Now, it is an essential part of our practice. It is just one of those things that you have to have, in my opinion.
When it comes to adopting digital technology to your practice, I would tell doctors that it's like anything else: the more patients you are seeing and scanning with the 3Shape, then the more treatment you will have accepted. Once patients can see and visualize their future smile, they truly get a better understanding and are happy to move forward with treatment oftentimes. Having a scanner makes its own return on investment. In fact, with TRIOS, I think I have already paid it off."
About the expert
Dentistry goes way back in Dr. Maria Jackson's family. Her brother, father, grandfather, and great grandfather are all dentists. Because of this, she and her family provide a unique perspective on the digital dentistry revolution.
According to Dr. Jackson's father, dentistry is more efficient now because of digital technology. "With digital enabling professionals to pull up on a screen everything that they want to share with patients and treatment partners. The communications is faster, and you no longer need to sit around waiting for things to get changed, there is for the most part, no more mailing back and forth."
Dr. Jackson has had her own practice for one year but has been a 3Shape TRIOS user for four and a half years.