This article is taken from a very popular presentation by Dr. Ian Buckle, at the 3Shape Global Symposium (June 19-20, 2020). Watch this and all other presentations on-demand for free now. Browse subjects here.
Dr. Ian Buckle: Very often as a dentist and lecturer, we like to talk about the complicated cases we do. Of course, they are fun to be involved with, but the main thing that I want to share with you is the nuts and bolts of what we do every day. And how digital dentistry has come to play an integral role in that.
If you invest in something like an intraoral scanner or take the time to learn about a technology, then you want a return on your investment. Not just financially, but also in how the technology contributes to your predictability.
Beginning with the end in mind
If you have read "The seven habits of highly effective people" by Stephen Covey, the idea of "beginning with the end in mind" is what we now do with digital dentistry.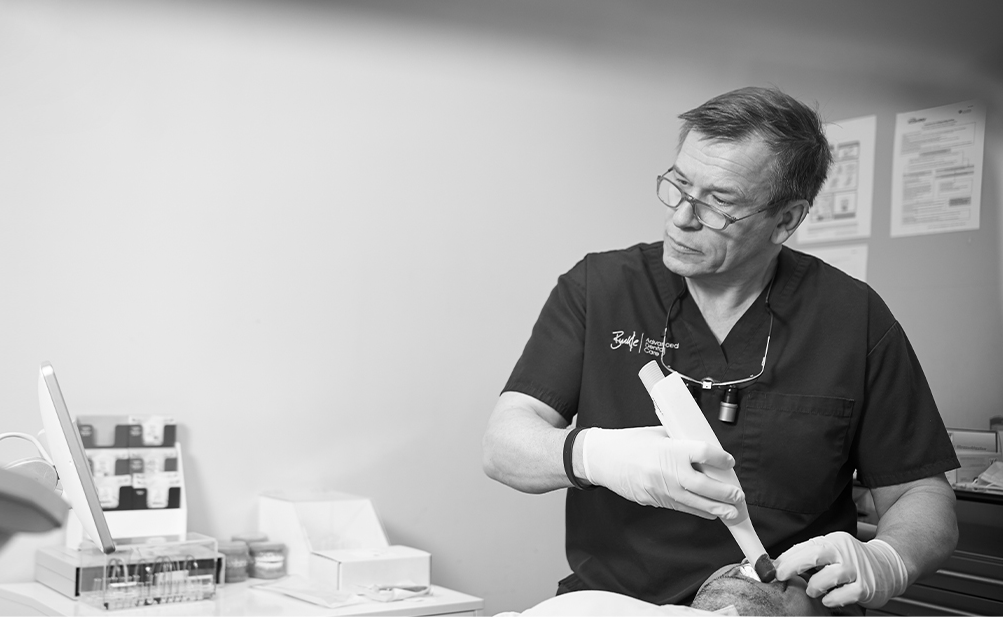 For example, if we consider one of my patients, Gordon. He comes in because his teeth are quite worn down. We need to take care of his smile and give him good function.
But sometimes, we are so busy being dentists and biologically driven, that we forget some of the important things that we need to do first, like "selling" dentistry - if you want to call it that. We need the patients to fully understand what may be needed to move forward and make their health and welfare better. With digital, we have the tools to do that. Digital also helps to motivate them to make the change. It engages them. Importantly, one of the really cool things with digital dentistry is that while it enables us to encourage our patients, it does so in a way that is more appropriate than it has ever been. You are not telling them, but instead, sharing information transparently.
With intraoral scans, we have 3D models that we can show our patients. They can see exactly what is going on. They can see in three dimensions how it all relates. On a side note, when you use digital technology, patients feel that you are a forward-thinking practitioner.
What we think is a good idea, might not be what our patients are looking for
Getting back to my patient, Gordon. Using digital technology, like a Smile Design tool, in just minutes, we can give him an idea of what can be done. This helps Gordon determine what he is looking for. Because what we think is a good idea may not be what our patients are looking for. The sooner we find what they think is appropriate for them, the better we will be. In Gordon's case, by adding a little composite to his teeth, I can get his vertical dimension and send these to my lab in the states, where they will create an additive wax-up.
Instead of doing it like the old days by building up the model, we now do it digitally. This is something you can do yourself or have your technician do it.
We get the model in just seconds
Now in this case, I send Gordon's data to the states and instead of it taking three or four days to get there and getting on the telephone, my technician in the states has the models in seconds. We can get on TeamViewer. He says based what you told me this is what I am thinking of.
Once we agree, he can send me screen shots and the STL file and very quickly, I can print the model out. The whole process is so much more efficient. We make a trial smile for Gordon to try on. We can then talk to him about what we need to do to be able to achieve this result. We are starting treatment with the end goal in mind.
Digital is so important because prior to this we would be sorting teeth out, trying to work out what to do and it would take me forever and a day for the patient to look at a model you just spent hours on and then say, "no thanks."
With digital, we can do it quickly and easily. We know what it is we need to do to get great results and get that patient engagement right from the start.
Now we can take our IO scan, face scan, CBCT scan, module information and we can assemble our virtual patient. This is really cool not just because we can show the patient, but because it gives us accurate results. Instead of using an articulator, we have the jaw movements of the patient digitally.
Monitoring patients by taking a scan at every visit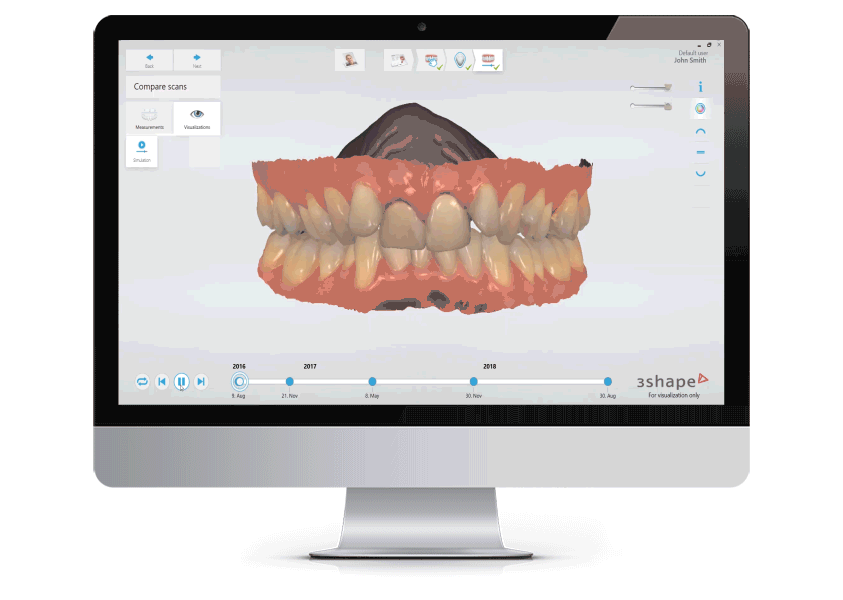 One of the digital tools we use now is a patient monitoring tool. It enables us to take a scan whenever the patient comes in, every annual or six-month checkup, and then we can build up a quantifiable record of how the patient's dental situation changes over time.
It enables us to evaluate tooth wear, tooth movement, abrasion cavities, erosion cavities, all these different things. As well as enabling us to say to the patients, this is what we are seeing. There's no doubt in their eyes because we are both looking at data. It really improves communications with a patient over a lifetime of care and how we can help them.
With my younger patients, I track their development. You can see over time how the teeth and the arches are developing from their very first scans.
Simulating treatments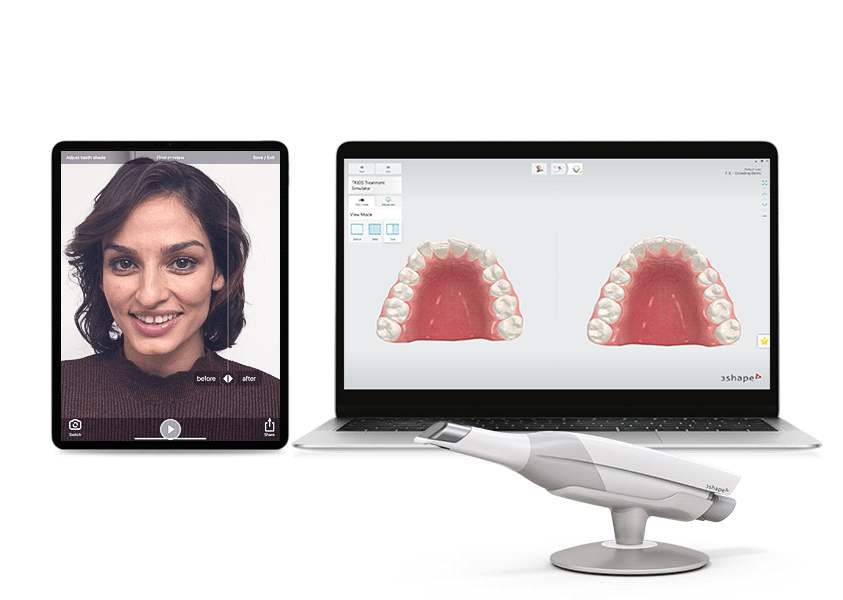 Another very cool digital tool we use is a treatment simulator. When it comes to an orthodontic treatment, whether it's braces or clear aligners, we never show the patient what their treatment will look like when it's completed.
Now with a treatment simulation app, which I must admit, when I first got it, I thought this was a little frivolous. I thought, "that's not dentistry. It's just a picture of something."
But I had it, so I used it. I showed it to patients, and I have just been amazed by their reaction. When you show them their treatment proposal, they are much more engaged. They say: "if you can make my teeth straight like that then go ahead."
If you want to go fast, go alone. If you want to go far, go together. (African proverb)
In the old days, for restorations, we would have to take photos, models, take a bite registration, and send that to a lab. The lab would have to mount them, take an incisal guide table to copy the function, now everything is done in next to no time.
I do a lot of implant restorations. It was never my favorite day to make a custom tray or trying to get all the impression material without getting it into the screw.
Whereas now, we unscrew the temporary or the cover screw and we take a picture of the emergence profile. We then put the scan post in. We don't have to scan the whole thing. We just basically scan the area that the computer has cut out, it's stitched together in the scan automatically. You get a perfect impression of the tissue. It knows exactly where the implant is. With that we can really ensure that we get exceptional results.
Digital really makes the patient and my life easier. It makes our lab friends' lives even easier.
Whether it's a technician, implantologist, GP, or orthodontists, digital is a great way to communicate with colleagues because we are all working with and sharing the same information.
In this way, we all have the same goals in what we are trying to achieve. What I really enjoy as a general dentist is being the ringmaster to make sure that everyone is heading in the same direction. When I think about "why digital dentistry?" It's because it is efficient, it's predictable, it makes our days more interesting. It gives us great treatment options for our patients.
I've been in dentistry for 35 years. I really enjoy having something that makes me want to come to work every day.
This blog post is created from a webinar presented by Dr. Buckle with his approval.
Want more content like this?
This article is taken from a presentation at the 2020 3Shape Global Symposium. Watch any of the presentations for free right now. Choose from a wide range subjects, presented by leading experts in their fields.
30 highly educational webinars
Best practices in restorative, implantology, general dental practice, dentures, prosthodontics and orthodontics
Includes how to thrive in a post-Covid-19 world
View presentations