1) A more efficient and predictable workflow between practice and lab
The way that we used to work before, with conventional analog impressions, had problems with accuracy, deliveries, and the operational side of things; there was a whole host of problems. According to Yassine, 'digital intraoral scans are more accurate and precise to work with and of better quality than analog impressions. The result being a more predictable outcome. My daily work has improved, thanks to the introduction of the digital workflow.'
Digital scans improve Yassine's lab work at Dental Excellence Laboratory in four ways:
Less steps need in creating a treatment.
Improved workflow.
No waiting for analog impressions.
Digital scans are received, designed, and delivered to the dentist and patient for a fast and efficient treatment.
Yassine advises conventional labs to speak with a digital lab to better understand the benefits of the digital workflow. Concluding that analog workflows cannot compare to digital, and that digital dentistry is "the way forward and the future."
2) A more efficient workflow: dental implant treatment planning
The benefits of digital dentistry are not only in the ease of communication between lab and clinic, it's also clearly illustrated in treatment workflows.
Digital technology enables communications to be smoother and more efficient when it comes to implant planning, which comprises 80% of my practice's work. For one, with a digital scan, the lab technician can digitize the actual restorative elements. With implant restorative cases, every element is crucial for minimizing the level of inaccuracy.
Digital dentistry mitigates risks and errors. Ultimately meaning that the fit of any restorative work is absolutely spot-on.
3) Smooth communication for smile makeover treatments
In the session, I demoed a smile makeover case in which I began the workflow with a 3Shape TRIOS intraoral scan. The scan was used to digitally evaluate the patient's mouth, simulate a smile, and then digitally communicate this with his lab.
With the digital dental impression, I can discuss treatment options and the treatment plan with the patient. Once the clinic part is done, the scan is sent off to the lab to create a diagnostic wax-up, which the restoration is based on.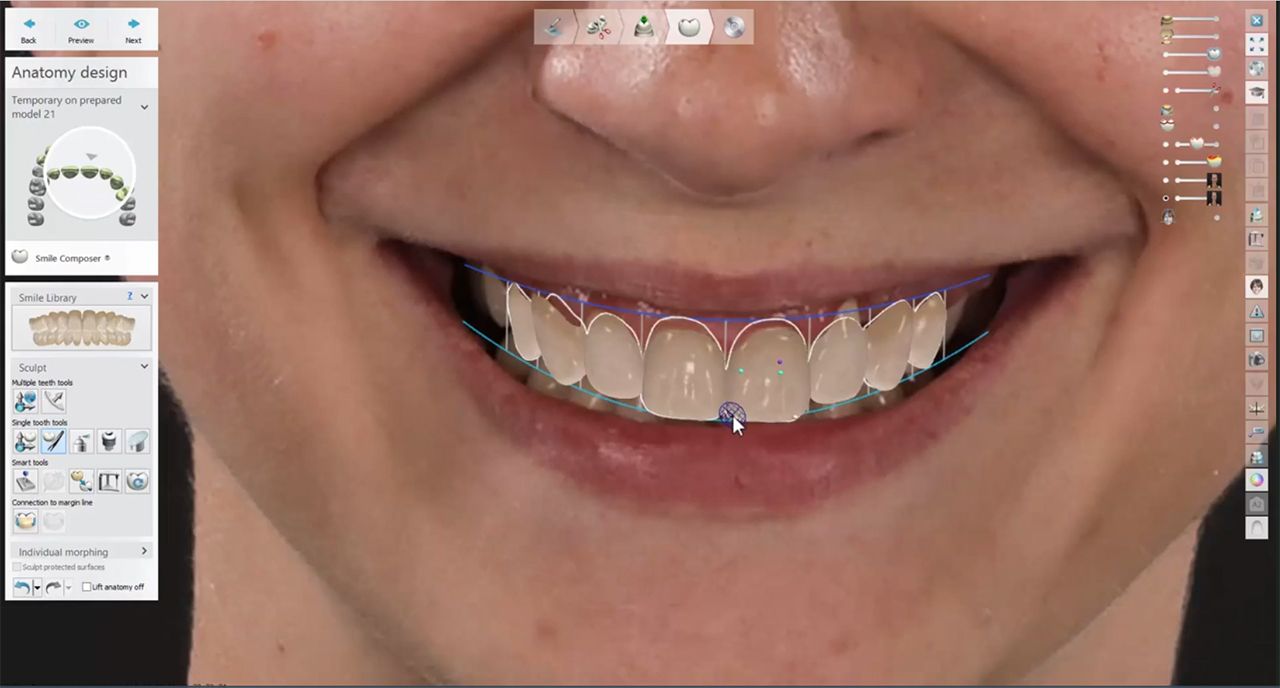 Yassine reflects on the lab side of the workflow - which looks as follows:
We go to the TRIOS Inbox, where we can download the scan, read the doctor's instructions, or any specification that this case may need.
We can see a preview of the case. For example, we can see the bite, the shape of the teeth, see if the scan has any issues… holes, we can have a general idea of what type of design is needed and what we are going to do with this case.
Once the case has been accepted, we can move to Dental Designer and start designing the case, and the dentist can follow up all our steps through the communication platform.
So, now we are ready to design. We can open Dental Designer and begin designing.
Once we have optimized the final design, checking the occlusion, the bite, the contact points, we can have one last look before creating the final model.
We can see here all the texture, the shape – it's very nice.